In London, the Ilisu Dam Campaign and Friends of the Earth launched a new report, based on a fact-finding mission to the Ilisu area. This was presented to Balfour Beatty at its headquarters.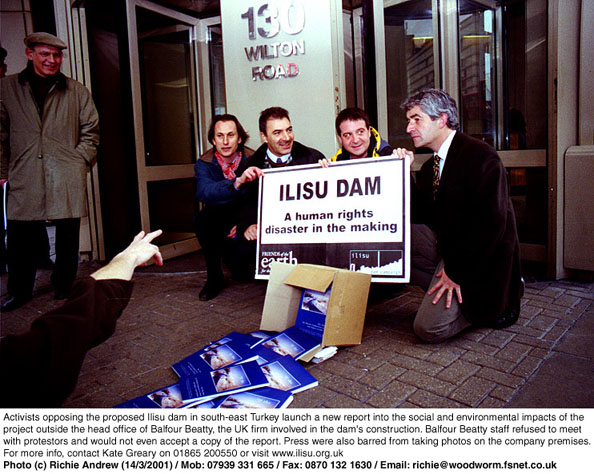 Many thanks to those of you who attended events around the country, email us and let us know what action you took.
The Ilisu Dam Campaign is calling for a Day of Action on March 14th, to demand the withdrawal of UK involvement in the Ilisu dam project, a human rights disaster in the making.
With your support, we will send a clear message to the UK government and Balfour Beatty – the company which wants to build the dam – that we don't want our tax money supporting a project which will:
* affect up to 78,000 people, the majority of them Kurds, in an area where human rights abuses remain widespread;
* cause cultural desecration, flooding the ancient town of Hasankeyf, a place of pilgrimage and centre of Kurdish culture;
* threaten water wars, as together with other planned dams, Ilisu will disrupt downstream flows of the river Tigris to Syria and Iraq.
The government has announced that it will make its decision on whether to back the dam with a $200 million export credit guarantee based on two studies, on environment and resettlement. We now know that the environment study is finished, and the resettlement plan is nearing completion so a decision could be imminent. It is all the more important in the run-up to the General Election to demonstrate our concern and to hold the government to its promise of an ethical foreign policy.
Join in the Day of Action!
* In London, the Ilisu Dam Campaign and Friends of the Earth will be launching a new report, based on a fact-finding mission to the Ilisu area. We will be presenting the report to Balfour Beatty at its headquarters: 130 Wilton Road, near Victoria train station, London SW1 at 11am on March 14.
* In Sheffield, local campaigners from a variety of other groups will be holding a demonstration in the town centre at 5pm on March 14. Meet at the new town hall, which is being built by Balfour Beatty.
* In your own area: if you can't make it to London or Sheffield, why not mark the Day of Action in your local area? Here are just some suggestions: hold a stall and get people to sign campaign postcards; write to your local MP and local newspaper about the dam; write to your local council and ask them if they award contracts to Balfour Beatty and whether they are aware of the company's participation in the Ilisu dam; find out if there is a Balfour Beatty site near you and hold a peaceful demonstration there: the aim would be to engage with workers to build support for their company's withdrawal from Ilisu. Some Balfour Beatty sites are: the Royal Infirmary in Edinburgh, the North Durham hospital, the Green Park business park in Reading, the Birmingham Northern Relief Road, and regional offices in Edinburgh, Aberdeen, Paisley, Newcastle, Manchester and Walton-on-Thames.