On 19th May, 25 Kurdish children protested at Balfour Beatty's head office in London and handed in the following letter to the Chairman Lord Weir.
Appeal from Kurdish children:
Stop the Ilisu Dam and save our homes and cultural heritage.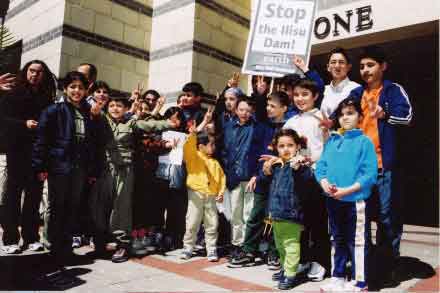 Dear Lord Weir,
We want you to understand how we feel about what your company is planning for our culture. The Ilisu Dam which Balfour Beatty is trying to build is going to destroy forever a big part of our homeland. The city of Hasankeyf, which most of us have only ever seen in pictures, is a remarkable old and beautiful place, known across the world for its rich civilisation going back many centuries.
You must try to understand this very important fact - many of us have never in our entire lives been able to see our homeland Kurdistan but we always dream of one day being able to go there for ourselves. You are even making an attempt to destroy our dreams now.
To think that it will be destroyed before we even have one chance to step foot on our soil is making use very distressed. It is a sad comment on today's values that people are ready to put a place like Hasankeyf under water for the sake of personal gain and greed. Again it is sad that you can throw people out of their homes and push them around without even considering what they want. It is a joke to talk about giving out compensation to people facing all these losses. You can never pay enough for what you try to steal from us. It is impossible to give enough compensation when our homes, land and civilisation are going to be lost.
How can Balfour Beatty be so hard and insensitive? Your business is making money, not making misery, but perhaps the two are the same. Show some humanity and show us that you do have a conscience by changing your mind at this late hour and cancel your involvement in this coming disaster on our civilisation.
If Balfour Beatty does carry out its work on this dam not only will you damage the name of your company among the public at large, you will go down in history alongside all those who have committed great crimes against the Kurdish people. So, if you can't think about us, think of yourself and stop the dam.
We hope you see sense and listen to us.
Yours sincerely,
Kurdish children in London.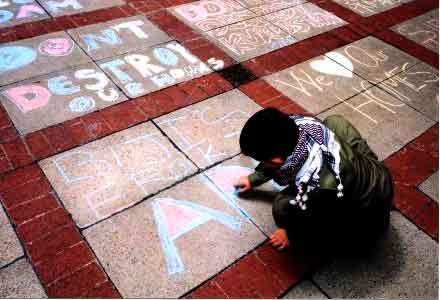 Dear Mr Caborn... A personal view from Mark Thomas.
Over 1,700 Postcards Handed into Downing St.
Kurdish Human Rights Project Urges Moratorium on Dam Projects in Turkey's Munzur Valley.
Ilisu Dam Lawyer on trial for "Insulting the Government".
Photos of Hasankeyf.
Ilisu Dam project in Turkey suffers another blow as main financiers pull out.
AMEC Pulls out of Yusufeli Dam in Turkey.
Oil Companies Colonise Turkey: MAI by the Back Door?
"Support for Ilisu could breach human rights act," say campaigners.
Developmental, Human Rights & Environmental impacts.
Day of Action March 14th.
Amnesty International publishes criticism of the FCO.
The archaeological impacts of the Ilisu dam.
Yusufeli project violates international standarts.
Scots engineering firm manufactures oilfield equipment for Shell UK.
Former Provost To Stand Down.